Fast and Easy Accounting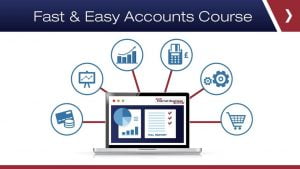 Discover The Trade Secrets Of Accountancy That Your Book Keeper & Accountant Don't Want You To Know 
This course will provide you with a simple no-nonsense approach to systematically teach you the accounting knowledge you need to prepare your own accounts and carry out a detailed financial analysis with confidence.
Join us for this comprehensive one day Accounting Course where you will discover strategies, tips, and tools to give you Fast, Easy and Guaranteed Results with your Accounts. 
Master The Key Fundamentals Of Your Accounts To Grow Your Business & Fastrack Your Profits.
Whether you're new to Accounting or you just need a refresher, you will get an in-depth knowledge of Accounting … FAST … and gain insights into your business, income and your profits.
A lot of business owners ignore their Accounts and bookkeeping throughout the year and then find themselves stressed, worried and at the mercy of Accountants. Or they purchase expensive and complicated software they don't understand and end up paying lots of money to keep it up-to-date and still find themselves at the mercy of Accountants to remain compliant!
This course is highly practical, unlike anything you have experienced and gives you a fast-track method of learning Accounting & Financial Management. You need to learn these essential Accounting skills to develop your business, ensure success & grow your profits.
What To Expect During This Course 
 Gain an in-depth understanding of your finances
 Quickly learn the financial lingo you need to know
 Understand your business performance

 Learn how to compare your business' financials with competitors
Why & How To shift your focus from income to profits

Assess your vulnerability to business and industry downturns

Simple & effective accounting techniques to take your business to the higher levels of success
You Will Also Learn …  
STEP by STEP instruction on how to implement our accounting strategies IMMEDIATELY.
Expert GUIDANCE through worked examples to gradually learn the bookkeeping and Accounting skills you need.
Once you mastered the basics, you will be taught FINANCIAL ANALYSIS tools to carry out a detailed assessment of the three financial reports.
You will be given all the tools and templates to adapt and use them in your business IMMEDIATELY.
Plus … You will get our Bookeeping Software, as a bonus
The great thing about this Accounting system is that you will be able to manage your Accounts & Finances sooner than you think so you can focus on developing and growing your business. The easy to follow and practical course is designed to cover the following 2 free standing sessions:
Principles of Accounting:  Bookkeeping & Financial Reports
Management Accounting: Financial Analysis & Financial Planning
This Course Is For You If …
You are starting a new business
Avoid looking at your financials but ready to change that
You currently have a business, but your Accounts stress you out
Want to gain a complete understanding of accounting FAST
Want to learn professional analytical techniques to grow your business
Want tips, strategies & tools to boost your business growth
Tired of feeling stressed about your accounts
Tired of not understanding what metrics you need to measure
Want to know how to improve your business' performance
If you want the fundamental knowledge, skills, tools, and techniques to manage your business effectively, efficiently and boost your profits
About Your Instructor
Abdullah has helped over 70,000 individuals and businesses since 1989 when he launched his business solutions company offering expertise ranging from start-up support through to business development and growth strategies.
Abdullah is results driven and offers advice, guidance and effective strategies in his coaching to ensure you master the fundamentals of your Accounts & Finances quickly.
Take Control Of Your Accounts & Financial Future Now.  
Get The Training & Tools To Make Your HMRC Tax Return Quicker & Cheaper.
Live Event 
Tuesday, May 30th, Kent – £147 

(venue details below)
 

Can't Make The Date? 

Pre-Order The Videos Now – £97
---
"I never knew learning accounting can be as enjoyable as this. Abdullah is a great teacher, Thank you." – Melanie Ashworth (Weston-Super-Mare, England) 

"I was lost before I worked with Abdullah and his effective accounting. Now my accounts are done automatically, I know what they all mean. I am well informed and make much better decisions thanks to Abdullah." – Tom Gilbert (Bristol, England)

"I am very pleased to recommend this Easy accounts and bookkeeping package. It combines the ease of day to day spreadsheet accounting with a simple year-end summary ideal for submission to HMRC. All small businesses will find this an essential tool for the effective control of their admin and tax." – Tony James (James & Company Chartered Accountants)

---
 VENUE DETAILS:
Course Duration: The course runs from 9.30 am to 5 pm approx. Please make sure you arrive at the course venue no later than 08:45hrs, registration opens at 8.30 am.
Course Venue: Darling Buds Farm, Tuesnoad Lane (off Pluckley Road), Bethersden, Kent TN26 3EQ
Accommodation:  is available on site if required, you can call reservations on 01233 226222  www.darlingbudsfarm.co.uk
Refreshments: Teas and coffees will be supplied during the course. However, please ensure you bring a packed lunch with you on the day as there are no shops in the vicinity of the farm.