Hemmel Amrania PhD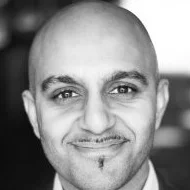 Hemmel Amrania PhD, was a physicist before he decided to go into marketing. He found his analytical background lent itself to a more data-driven approach and focused on marketing channels such as Google Ads and Analytics. He went on to create various eCommerce and dropshipping businesses for which he was awarded the '£3m in Online Sales' award from the internet Business School.
Later by combining Google Ads with affiliate marketing he discovered his own method for affiliate marketing that was free of the usual effort associated with it. 
Armed with this new set of internet skills he went on to create deep-tech companies in climate tech and biotech. Along the way he raised several million pounds, won several business awards, filed 7 patents and graduated from Y Combinator – the world's most competitive incubator/investor known as Y Combinator in Silicon Valley. 
Maybe you're already generating some traffic but can't work out how to scale your efforts online -you need to begin looking into your web analytics to work out exactly where and how you're leaving money on the table and where you're wasting money.
If you've just finished your website and want to start driving laser-targeted traffic using Google Ads get some assistance to set up conversion tracking and start crafting your campaign to begin getting qualified leads on auto-pilot.
Grab a 1 Hour call with Hemmel to help you with:
Diagnosing Leaks in Your Website/Sales Funnel Using Web Analytics
Google Analytics Installation and Configuration (WordPress, Shopify, Squarespace, Clickfunnels)
Google Tag Manager to Setup Granular Tracking Goals
Conversion Tracking – (contact form submission, phone-call tracking etc)
Proper Keyword Research Procedures
Affiliate Marketing Using Google Google Ads
Google Ads Campaign Structuring & Management Tips
Remarketing Campaign Set-Up
Google Display Network Ad Campaign Set-up
Google Ads Copy Tips
Powerful link-building Strategies for SEO
Custom Facebook Pixel Setup and Installation
Calls are for 1 hour and are usually conducted via Zoom. After purchase, Dr Hemmel will contact you to arrange a convenient appointment for the call. It is very helpful to send him a full rundown of what you wish to discuss before the call so he can prepare and give you maximum value during the call.
Private Coaching with Hemmel Amrania PhD
Private Coaching with Hemmel Amrania PhD