Are you frustrated with Facebook? Looking for new ways to get your name out there? Want to make marketing fun again?
Are you frustrated with Facebook?
Looking for new ways to get your name out there?
Want to make marketing fun again?
If so, it's About Time You Learnt all about the Power of TikTok Marketing!
Discover why TikTok could be just the platform you need
There are over 800 million active users of TikTok waiting to be engaged and entertained
And find out why you should be really excited about a brand new feature that has just been released!
Don't Make Ads, Make TikToks!
Hi There.
I have to tell you, now's the time for you to be taking a really close look at TikTok to see how it can work for you to boost your profile and bump your sales.
If you don't know already, TikTok is THE place for quick, snappy, entertaining short form video, and it's growing at a huge rate amongst the under 30s. It's drawing in celebs with HUGE followings; global brands are piling in to connect to an audience of over 150 countries, and Influencers are cashing in on massive untapped audiences.
Now you may be saying to yourself that your customers don't fit that demographic, so why bother with TikTok now?
Well, remember when Facebook first started? It was all about the younger generation back then, but look at it now! And exactly the same goes for Instagram. So now is a great time to get onboard and build a following.
Ordinary People Are Becoming Huge Success Stories – and Fast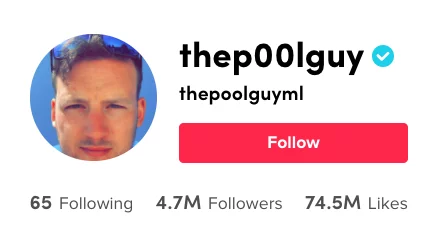 You may not have heard of ThePoolGuy but this Bedfordshire based swimming pool cleaner called Miles, started shooting quick videos of himself cleaning up the most filthy pools and hot tubs he came across in his day job.
Now maybe that doesn't sound the most interesting subject, but from when he started in early 2020, Miles hit a million followers in a few months! A year later and he is up to nearly 5 million and his short videos have been watched over an incredible half a BILLION times.
He now has merchandise and uses his influence to promote other businesses. And all achieved in 12 months.
It just shows that with a bit of knowledge, thought and creative juices, anyone can make it big on TikTok!
TikTok is growing fast and adding new marketing features
 The TikTok social media platform has seen explosive growth over the last few  years and it now has 800 million monthly users that are desperate for fun and exciting content. This naturally could make it a massive opportunity for you to promote your business.
They only launched their Ads Manager dashboard in July 2020 and are adding to it all the time. In fact they just launched a super exciting new feature that could be a game changer for some businesses (I'll talk about it in the course).
But to be successful with TikTok marketing,  you need to know how the platform works and understand what users want and how they interact with each other.
TikTok appeals to a younger demographic and you really need to speak their language to be successful.
We have worked hard to provide you with everything that you need to know to use the TikTok platform to market your business successfully.
Other marketers have tried marketing on TikTok and failed spectacularly,  spending big for little return.
We really do not want you to make the same mistakes that they did.
Here's where my advice for you comes in.
With My Advice…
You will learn how to use the TikTok platform to market your business successfully.
You will learn that a number of businesses and organizations have already leveraged the TikTok platform to get the word out.
You will be able to engage with your audience on TikTok.
You will learn how to create viral videos and grow your TikTok account.
You will know how the platform works and how the users interact with each other.
To make it easy, I've put together a step-by-step course that will show you  how it's done…
Introducing…
TikTok Marketing Essentials
Here's What You'll Discover Inside with 32 modules waiting for you…
Welcome to Tiktok
Installing the TikTok Mobile and Desktop Apps
Setting up your Tiktok profile
Adding TikTok contacts
Home Screen Controls
TikTok Search and Explore
Shooting Video with TikTok
Adding sound to your video
Effect Elements for Videos
Adding Text to your videos
Adding Stickers
Adding Voiceovers
Voice Effects
Adjusting your clip
Video Filters
Posting your Video
Uploading from your Mobile Device
Doing a Mobile Screen Capture Video
Additional Settings
Switching to a Pro Account
Recording a Duet Video
Uploading from your Desktop
An Introduction to TikTok Marketing
Why TikTok?
Creating a Strong Foundation
Creating Engaging Content
The Power of Hashtags
Hashtag Challenges
The Ads Manager Platform and Shopify
Analytics
Best Practices
TikTok Conclusion
Who Needs This Step-By-Step Guide?
If you answer YES to any of the below, you need this…
You want to learn how to use the TikTok platform to market your business successfully.
You want to learn how create creative videos that get the users involved in their brand in a fun way.
You want to know how the platform works and how the users interact with each other.
You want to generate more engagement to your audience on TikTok.
You want to create successful marketing campaigns.
Does This Sound Like Exactly What You Need? But maybe your question is: How Much?
If you were going to hire an expert on this, to show you how it's done, you could easily find yourself investing hundreds for this sort of coaching.
In fact, many people invest hundreds and thousands to get into coaching programs or attend workshops…
But, you won't have to invest anywhere near that today.
Today, you can get INSTANT ACCESS for just…
£97
And it just keeps getting better…
FOR A LIMITED NUMBER OF PEOPLE, I AM OFFERING A RESALE RIGHTS OPPORTUNITY FOR YOU TO PROMOTE THIS NEW COURSE FOR 100% COMMISSION!
Yes, that's right. You can buy the course to learn from yourself AND get your own link to promote the course more widely and keep 100% of the net sales.
I've priced it low so you only need to make a few sales to make a profit!
And don't worry, I have you covered. There's not going to be any messing around your end to build your own course and make a website to sell it. There's no landing page for you to write, no payment processors to set up, and no membership site to build.
I'm letting you use my existing platforms to take care of all that for you so you can hit the ground running. Plus you will be able to see your success in your own special access dashboard.
All you will need to do is to spread the word and promote, and then send me your invoice for your sales. It's super-simple.
GRAB YOUR RESELL RIGHTS SPOT HERE!
OR
NOW'S THE TIME TO UNLEASH YOUR CREATIVE TALENT AND LEARN HOW TO BUILD TIKTOK AUDIENCES QUICKLY.