Whether you have an existing business you want to bring online,
an online business that could perform better, or you're starting out and want to build your own new business online – you are in the right place.
Could you run an online business?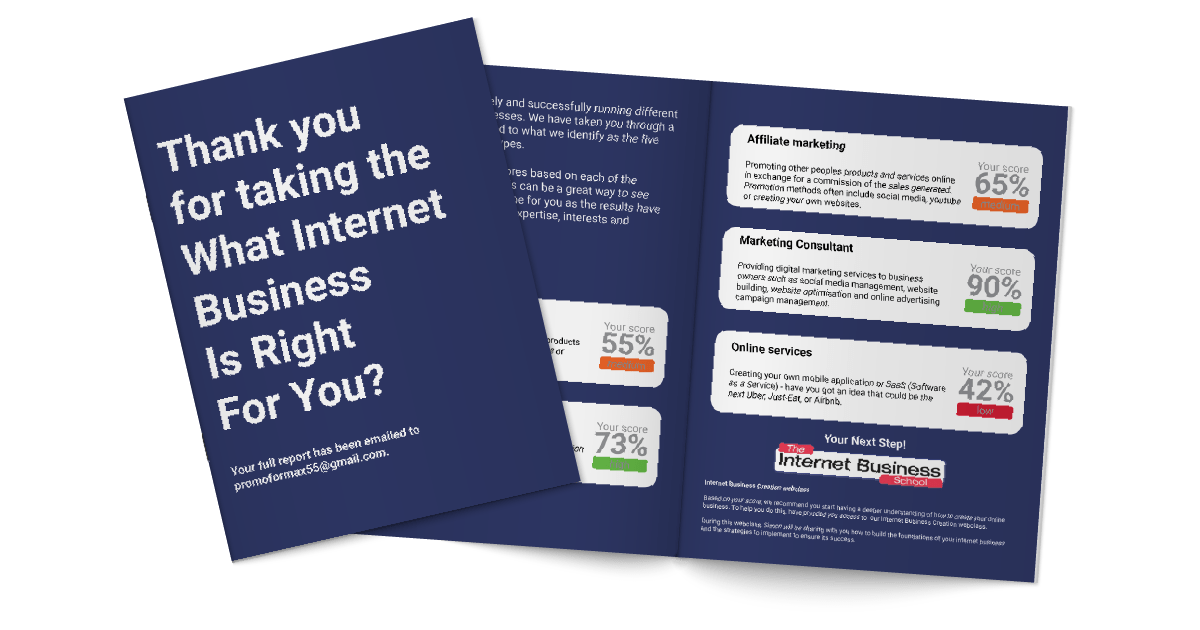 Discover What Internet Business is Right for you! Complete our short questionnaire.Generate your 6 page FREE report
CLICK HERE
Some of our most popular courses
From complete beginner, to online expert. Whatever your level of expertise we have a course that will suit you.
VIEW ALL OUR COURSES
GET A FREE COPY OF MY AMAZON NO. 1 BEST SELLING BOOK
'INTERPRENEUR' tells Simon Coulson's story and shares valuable insight. Learn how today anyone can become an Internet Entrepreneur and start a Multi Million Pound Business. The book is completely FREE!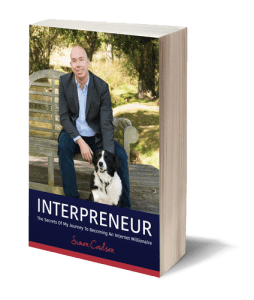 There are over 20 real-life student success stories in this book. It is an inspiring journey and an educational guide, showing how anyone can use the internet to grow or create their own online business.
YES! Send Me My FREE Book
Learn everything you need
to start a successful online business
Our courses are designed to provide you with all the knowledge you'll need to launch a successful online business from start to finish.
VIEW ALL OUR COURSES
Some of those who have used our courses to launch profitable businesses
We have trained 1,000's of entrepreneurs and created many millionaires. Here's what some of them say about The Internet Business School.
Since being taught by Simon and writing my first guide, How to Become a Firefighter, I have gone on to author and create hundreds of products. My company is now the UK's leading careers information/development specialist website www.how2become.com – and has generated over £5M in sales!
Rick McMunn
I attended Simon's 3 day diploma in January 2019. It's fair to say it has changed my life. In the last 12 months I have gone from working as a restaurant chef with no business knowledge, to running two of my own businesses and earning enough to leave employment for good. I have an online cooking school, which provides a passive income each month." www.becomeapastrychef.co.uk
Ben Mariner
After attending Simon's course the results were almost immediate. My turnover is now a healthy £400k – £500k per year.The prospect of becoming a millionaire when I left the police was non-existent, and to achieve this within a few years is truly unbelievable for me. Simon's mentoring helped me to develop and guide my online business, and gave me direction to steer it towards where I wanted to be.
Frankie Widdows
Attending the 3 day Accredited Internet Marketing Diploma, changed my life. I moved from a corporate job to a self-employed Entrepreneur, living according to my terms. I am really happy now and I can't thank Simon and the team enough. 
CLAIRE PERRY
I have a lot to be thankful to Simon for. It was watching his online training that helped me start on my journey, and Exposure Ninja now turns over more each day than I did each month before coming across Simon's training.
Tim Kitchen
Simon's guidance has been invaluable. In September 2016 The Big Lemon scooped three awards at the Brighton & Hove Business Awards: the Green Business award, Best Place to Work and Business of the Year. It really is a dream come true.
Tom Druitt
The Internet Business School is the best place to learn how to make money online. After attending Simon's course I started a new business and in just two years, I've grown my business from scratch to over £2m a year!
PAUL BIRD
Simon showed me how to set up websites, a shopping cart, autoresponders, Google marketing and everything necessary to
go live on the Internet. In the first month of trading I made £3,500, All I can say is 'a very big thank you Simon' for tremendous help! www.cpc4you.co.uk
Keith Franklyn
The return on investment from the training course with Simon was incredible. I was a black belt in karate and decided to make karate and self-defence DVDs. Within two days of launching my first product I was already making sales. I made tens of thousands of pounds from my DVD sets!
Alex Buxton
The course offered by the Internet Business School was just what we had been looking for. It confirmed to us that we both had valuable skill sets, expertise and ideas worth developing into a new business, and that there is life after working full-time for an employer.
Helen and Hugh Smith
I studied Simon's diploma course back in 2012 and my latest company, Heavenly Chocolate did £500k of online sales in its first year. I then went on Dragon's Den and was offered deals from 3 Dragons.
Stephen Conway
My earnings have grown from hardly anything to monthly recurring revenue of around £2,000, which only takes a few hours a month of maintenance to sustain. I'm so glad I took action and chose Simon as the man to help me. It's the smartest business move I could have
made
Jamie Davies
The business has comfortably turned over £1 million + per annum for several years now I could not have achieved this without Simon. He is a real person with real success, and his magic dust has transformed my project into a sustainable global business.
Guy Cohen
The Internet has changed everything for me, and for a relatively low investment it's incredible how you really can propel you and your business forward like never before. I truly am living the dream right now, and discovering Internet Business School was absolutely life-changing.
Izzy Arrieta
I live in Belgium and I did an online course from the Internet Business School, when I was approaching 40. The most helpful parts for me were learning about outsourcing and online marketing. My revenue increased by 50% and my book, The Secrets of Influence: Mastering the Art of Inspirational Leadership, became a number one international bestseller on Amazon.
Dirk Van Loon