I'm betting that not many people have heard about the
Great Horse Manure Crisis of 1894
and the important analogy it can offer us in today's AI-driven Internet Marketing Revolution.
Bizarrely, the story itself was actually only written in 2004 as an innocent blog post by economics historian Stephen Davies. It was on the subject of how the free market will solve a problem that doom-mongers say is catastrophic. In the blog, he cited the example of motorcars solving the problem of horse manure in big cities. Now there may have been a few gaps in his article but over time, the story has evolved and been embellished by others until it has become one of those genuine 'internet facts'.
The gist of his original analogy was this – he said that around the turn of the century, big cities around the world were powered by horses – lots of horses. In 1900 for instance, London had 11000 hansom cabs and several thousand horse-drawn buses, requiring over fifty thousand horses to power them. When you add in the thousands more carts and wagons delivering food and goods around the city, you can just imagine the sheer number of horses on the streets, plus the size of the industry built around them to keep London moving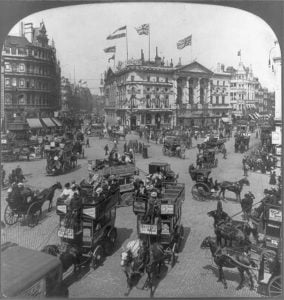 But when you have that many horses, the volume of animal waste created was a massive logistic problem and a major health risk. Davies claimed that in 1894, The Times newspaper ran a story where the writer predicted that " in 50 years, every street in London will be buried under nine feet of manure" and that this became known as The Great Manure Crisis
Despite planning conferences and political bluster (that did actually happen), there was no solution in sight and it was said that urban civilisation was doomed
But as Davies said, the market rides to the rescue, with people like Henry Ford and Daimler coming along and allowing motor cars and lorries to be built at affordable prices. By the 1920s working horses were a much rarer sight on London streets – the manure problem had gone away and urban civilisation was saved.
It's a great story, whatever the exact truth, and you can maybe see what it has become an internet 'fact' but we must take into account that the change from horses to motor power happened steadily over a few decades. That length of time allowed all the businesses and workers whose income relied on horses to adapt. A whole new industry sprang up from car production, car sales, garages, petrol stations, road building and more – that's millions of new jobs, products and industries developed on the back of motor cars.
The AI Revolution
Fast forward to today, and we are at the start of another new revolution, the AI Revolution. Think of ChatGPT as the new Model T Ford and you get the idea. But instead of change taking place over decades, we are seeing massive changes happening in just months. It means that all who work in jobs or industries that will be negatively affected by AI tools need to have their eyes wide open and be ready to make a change. And all those with an entrepreneurial spark are looking at the next online gold rush!
Back in the day, horse riders could maybe learn to drive a car, wagon cart drivers could become lorry drivers, livery stables become petrol stations, and wheelwrights become mechanics. There was time to retrain back then but right now, have you got the same time on your hands before AI changes the way you work? And what are the new jobs being created that you could move to?
ChatGPT has only been available to the masses for just 6 months and already jobs are changing, new industries are being created and new products are being released daily. But the only real way for you to stay ahead of the change is by learning about AI now and skilling yourself for the future. It's not the time to rely on the plan that 'don't worry, something will turn up'.
Incidentally, that saying was actually the mantra of Wilkins Micawber in Dicken's novel 'David Copperfield'. Micawber was an eternal optimist, who expected everything to turn out rosy but ended up in debtors prison along the way because his outgoings were more than his income, and thus he gave his name to the Micawber Principle of financial management. You're welcome!
At the Internet Business School, we work hard on your behalf to keep you as up-to-date as we can, and we have been all over the development of AI and the changes it is making to online marketing. So who better for you to follow and learn from yourself?
We have already held a live full-day training to introduce and explain the power and potential of AI for marketers – AI Revolution Live and we have regular monthly training updates via our Internet Business School Club.
Our signature Internet Marketing Diploma Course is also being updated again to focus on AI and explain how you can create content and products more quickly than ever before, and grow your online income from the new AI economy.
So whatever your situation, keeping ahead of the AI curve is going to be crucial for your future success. From understanding the power of prompting to finding the best new AI tools that actually deliver great value, we have your back. From ChatGPT, to Bard and Bing, we will explain how they work, which is best and how to use them effectively.
And if you have tried ChatGPT and have been constantly frustrated by the 'Our Servers are at Capacity' message, then try out our own UltimateAIToolbox platform where you can safely use GPT and create images without delay. Plus we have added 50 powerful marketing prompts that you can use to generate great marketing content fast.
Check it out right now and check back here for new AI updates!