How to Turn Your Audience Into Hot Sales Leads – with Daniel Priestley
Sometimes if there is not an evident path to take toward our goals, we have to be creative and forge an unconventional path of our own. Today's guest on Lead Sell Grow: The Human Experience podcast is an exceptional example of just that. Starting with nothing, Daniel Priestley has built valuable and scalable businesses in Australia, UK, US/Canada and Singapore. Daniel is the founder of Dent Global and co-founder of ScoreApp, he was named Entrepreneur of the year for 2022, he is a 4 time best-selling author, investor, and leading authority in funding, scaling, and selling businesses. Daniel's Mission is to support entrepreneurs in standing out, scaling, and making a positive impact in the world.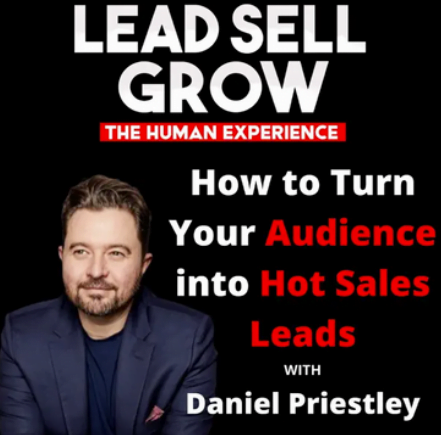 In this episode, Daniel shares his story of starting his first company at just 21 years old, and how it went from zero to 10.7 million in 3 years. Daniel has a very unique story of tenacity when he invited several strangers to a dinner party to sell the idea of his first company, Dent Global. Daniel is so passionate about helping entrepreneurs solve problems, that his second company was designed to do just that.
Recognizing the popularity of personality quizzes and the fact that so many people love to learn more about themselves, ScoreApp was created to use this natural curiosity and affinity to help entrepreneurs solve a pain point: lead generation.
In owning and operating a company, there are many things that can be done wrong, and a narrow path of how to do it right. The ScoreApp aims to help you as a business owner, do things right, but make doing those things much easier and faster to do.
ScoreApp not only assists with lead generation, but also customer trust and retention, and highlighting your worth to your customers.
Read our full June Newsletter here